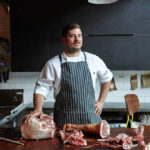 ""Before I started working with Kern Meat Co., the product I bought from other companies was inconsistent in its trim and grade. When I started working with Kern Meat Co. ten years ago, they immediately solved the problems that I experienced with other companies. In addition, Kern Meat Co. provides exceptional customer service, promptly responds to my requests, quickly fills custom orders, and is genuinely concerned about my needs.""
- Paul Cissell
""I buy from Kern Meat Company because they are a locally-owned and family operated St. Louis company. They provide great service, excellent advice, and high-quality fresh products for my bar and restaurant.""
- Ron Grimoldi
""Kern Meat Company provided my facility with quality center-of-the-plate products and made it possible to purchase quantities that fit my freezer, budget, and census. Kern Meat Co. was able to provide the quantities I needed—20 portions or 600 portions—when I needed it without any issue—ever.""
- Carol Schnitker