Our Products
As a meat company, we believe in doing things differently than our competitors.
We source our products from the best regions in the United States. We are patient, and we naturally age—a minimum of 35 days—our beef longer than most of our competitors.
Simply put, we believe in doing things the old-fashioned way to achieve exceptional results. As a result, our customers can expect proven and consistent results with our products because every step–farmer and packer relationships, procurement, proper aging, proven genetics, processing, and delivery–have been carefully managed and planned with one single purpose: to maximize the success of chefs who use our products.
What Our Customers say

STLmag
STLmag - BY CHERYL BAEHR, LYNN VENHAUS
There are butcher shops, and then there is Kern Meat Company, a meat purveyor that's so singularly focused on providing high-quality meats and rare cuts that many of the region's top chefs consider it their only butchery source. Although Kern has been a wholesale company since its founding, in 1948, the company
 began offering
 its wares directly to customers in 2020 through an online ordering system and pickup, which continues at its state-of-the-art processing facility in Bridgeton. Kern also distinguishes itself through its philanthropy (the company has worked with the 
Gateway Resilience Fund
) and environmental stewardship (its Bridgeton plant is 90 percent solar-powered).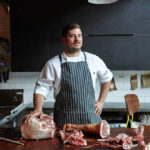 Paul Cissell
Head Meat Cutter, Smokehouse Market
"Before I started working with Kern Meat Co., the product I bought from other companies was inconsistent in its trim and grade. When I started working with Kern Meat Co. ten years ago, they immediately solved the problems that I experienced with other companies. In addition, Kern Meat Co. provides exceptional customer service, promptly responds to my requests, quickly fills custom orders, and is genuinely concerned about my needs."
Ron Grimoldi
Owner, Dulany's Grille & Pub
"I buy from Kern Meat Company because they are a locally-owned and family operated St. Louis company. They provide great service, excellent advice, and high-quality fresh products for my bar and restaurant."
Balkan Treat box – Loryn Nalic
Developer
"We owned a food truck back in 2016 before opening our restaurant in 2019. It was difficult to find a company that was consistent with quality and customer service. We could finally rest easy when it came to Kern Meat Company.
Kern Meat Co. meets all our needs when it comes to quality and consistency for our needs and blends. If there is ever a problem, they fix them immediately."