Exclusively For Our Customers
We provide certain premium products that are only available to our customers and exclusively from Kern Meat Company.
Brewers Crafted Pork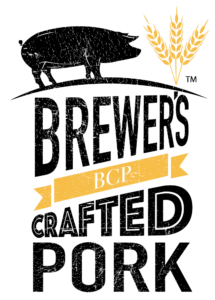 In a market saturated with heritage breed pork programs and commodity pork, Brewer's Crafted Pork® (BCP) represents a paradigmatic shift for the American dining table. If the last decade of meat processing and animal husbandry has proven anything, it is that genetics matter. We craft our Heritage Berkshire Hogs by finishing them with 6-Row malted barley, the same grain that North American brewers utilize in the production of beer. Six-Row malted barley is rich in natural sugars, complex carbohydrates, natural enzymes, protein, vitamin, minerals, and most importantly, is packed with the flavor of beer. Through the hog's consumption of said grain, we are able to transfer those immense nutritional properties and unique flavors to our Heritage Berkshire Hogs.
BCP hogs are also raised using animal husbandry techniques pioneered by Allan Savory in the 1980s, which we call "regenerative agriculture." Domesticated animals raised for meat production, Savory maintained, can be used to reduce carbon emissions through a carefully monitored pasture-management program.