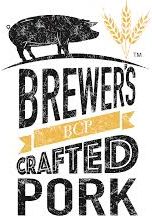 Brewer's Crafted Pork®
In a market saturated with heritage breed pork programs and commodity pork, Brewer's Crafted Pork (BCP) represents a paradigmatic shift for the American dining table. If the last decade of meat processing and animal husbandry has proven anything, it is that genetics matter. Yet, heritage breed hog programs accounted for less than 1 percent of overall pork production in the United States. BCP seeks to capitalize on the groundwork laid by these individuals, but will do so with one important difference in mind: we are crafting pigs by finishing them with 6-Row malted barley, the same grain that North American brewers utilize in the production of beer. In deploying this unique rationing program with our heritage hogs, BCP will capture the nutritional value, flavor, and natural sugars of malted barley and transfer those qualities through the hog's consumption of said grain. As a result, it is our specific objective to create a uniquely-flavored pork unlike any other. BCP also uses regenerative agriculture principles in our key management practices.

Chairman's Reserve® Premium Pork
As one of the strictest branded pork programs available, Chairman's Reserve® Premium Pork delivers consistent marbling, color, flavor, and texture for an exceptional eating experience.